Add to my Reading List

Remove from my Reading List
News Article
Swiss Logistics Firm Invests In Delta Inverters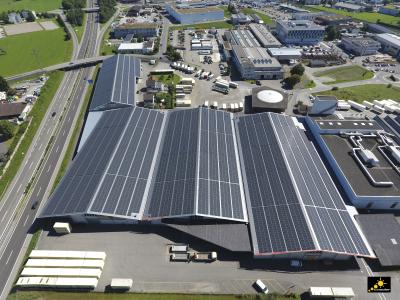 The firm Rieser + Vetter specializes in transportation of goods and materials throughout Switzerland that are large, bulky or delicate, such as fine furniture. To offset the carbon from the fuel-powered lorries used by the firm the owners decided to install a rooftop PV system at their Frauenfeld distribution center. Besides the environmental benefits, the solar PV system has financial benefits in Switzerland with its feed-in tariff concept. The solar power generated receives an annual remuneration which offsets the operating costs of the firm.
Fuchs Wohnbau AG Solartechnik was selected for the system engineering and main turnkey construction of the solar project.
PV arrays were installed on several warehouse rooftops at the Frauenfeld site. 8293 LG solar modules in total were utilized in the solar PV system.
46 Delta RPI M50A inverters (each with a rated power output of 55 kVA) were selected for the PV project and installed on several of the warehouse exteriors. The solar inverters were purchased from Delta sales distribution partner, Baywa r.e.
The RPI-series inverters have a high maximum efficiency of 98.6% to help ensure a good solar energy yield. The rugged aluminum chassis and IP65 protection rating provide a secure moisture seal that is fitting for the periodic rain and snow common in this region of Switzerland.
According to Erich Stutz, the Solar Installation Manager at Fuchs Wohnbau AG, "Delta inverters were chosen due to the compact form factor of the units with a very high power output of 55 kWs. In addition, the good reputation of Delta as a financially viable manufacturer gives us confidence that they will be around in the long term to support their inverters for the entire guarantee period."