AEROCOMPACT launches racking system for bifacial PV modules and green roofs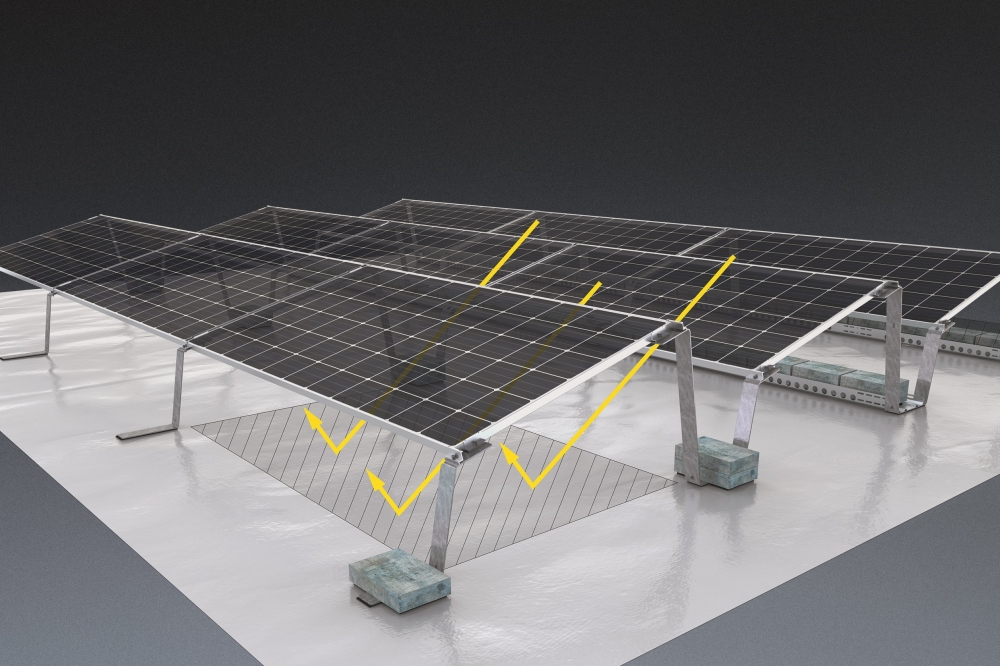 High elevation, higher yields: AEROCOMPACT designed the racking system for the installation of bifacial modules

AEROCOMPACT, the Austrian manufacturer for PV racking solutions, has developed a flat roof system for mounting bifacial active PV modules or solar systems on green roofs. "Bifacial modules are replacing traditional foil modules more and more. The high elevation of our new system improves reflection and ensures higher yields," explains AEROCOMPACT product manager Philipp Pejcl. Independent laboratory tests have confirmed that bifacial modules can increase yields by up to 20 percent by reflecting light when the roof surface is bright.
CompactFLAT GS can be used to install framed modules on foil and bitumen roofs – with and without thermal insulation under the roof sealing – as well as on concrete and gravel roofs. While CompactFLAT GS15 has a tilt angle of 15 degrees and is suitable for installing solar systems with south orientation, AEROCOMPACT has designed the CompactFLAT GS10PLUS system with a tilt angle of 10 degrees for east/west orientation. With south orientation, there is no need for a wind deflector that prevents the reflection of light.
Green roof receives sufficient light
Since it has a distance to the roof surface of around 40 centimeters, the CompactFLAT GS system is also well suited for green roofs. "The plants get enough light and can be maintained without any difficulty," emphasizes Markus Burger, Head of Development at AEROCOMPACT. The aerodynamic mounting system consists of few components and does not require long rails, making it quick and easy for an installer to mount. AEROCOMPACT has integrated the racking system in its planning and engineering tool, AeroTOOL. The company provides a 25-year warranty on the system.