Durrell Wildlife Conservation Trust reduces its carbon footprint with a DC-optimized PV rooftop installation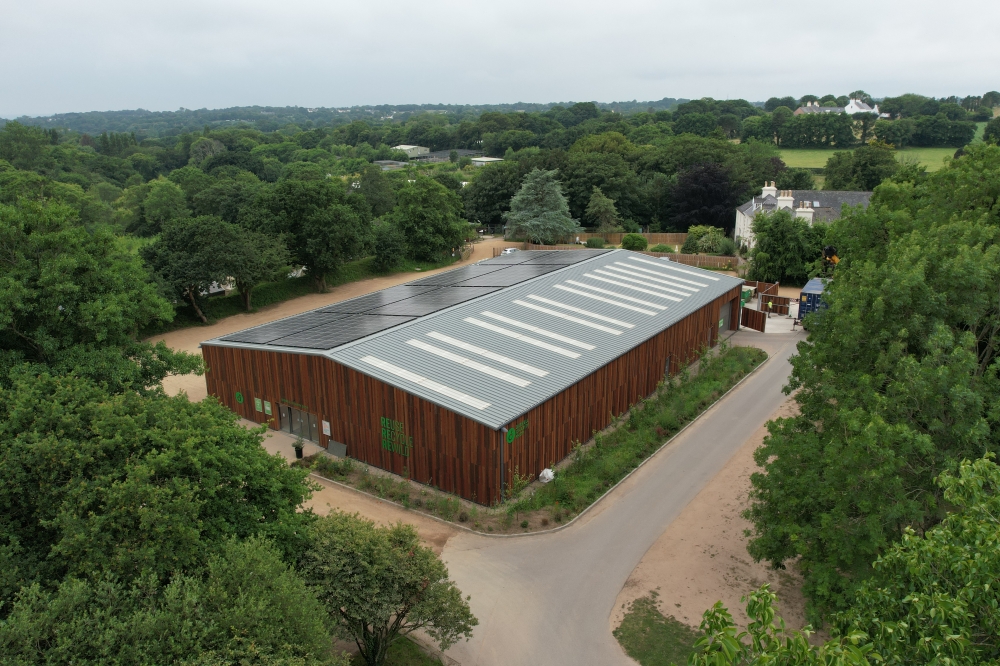 Innovative DC optimised solar system provides energy for a number of Durrell's key buildings, including the charity shop, Les Noyers farm buildings and nursery and the Conservation Training Academy, including the Hostel
SolarEdge technologies announces the installation of a 75kWp, 242-module DC-optimised solar array at Durrell Wildlife Conservation Trust in Jersey, Channel Islands. The system is now helping Durrell reduce the environmental impact of many of its buildings, including its charity shop, training academy, hostel, farm buildings and nursery operations. The environmental benefit of this installation is made evident in the just shy of 4 tonnes CO2e of emissions that were saved in its first full year of operation.

The Durrell Wildlife Conservation Trust array is sub-divided to 80 solar PV panels providing electricity to the charity shop and 162 which feed energy to the training centre that also includes their hostel. In order to reduce its environmental footprint, Durrell, which is headquartered at Jersey Zoo engaged with Jersey-based solar installer, Sunworks, to install a SolarEdge DC-optimised solar system.

Durrell Wildlife Conservation Trust is an organisation at the forefront of protecting and supporting some of the world's most endangered species through extensive global conservation efforts. Through Jersey Zoo, they manage breeding programmes for release back to the wild, develop the skills and tools to conserve species in the wild, train others in animal husbandry and conservation practice, and communicate important messages to their visitors.

Ben Spencer-Newman, Solar Surveyor at Sunworks explained: "By installing the solar system at the same time as the charity shop was constructed, we were presented with a rare blank canvas. The building is ideal for solar placement with a uniform pitched roof and no shading from local structures. Understanding how busy the zoo site is, and how important the charity shop would be in helping to raise funds for conservation work, we recommended REC panels with SolarEdge infrastructure as the best solution for higher safety, quick return-on-investment and ease of monitoring."

SolarEdge inverters offer SafeDC technology, enabling the power optimizers on each module to drop the voltage across the entire array down to a touch-safe 1V, and Integrated arc fault protection that detects and interrupts potential arc faults. For this installation, the SolarEdge Firefighter Gateway was also chosen to further enhance the system safety, because it provides a single centralised control for the entire solar system, allowing either manual or automatic shutdown to safe voltages using the in-built SafeDC technology. This gives the peace of mind that staff, visitors, maintenance crews, emergency first responders and of course the zoo's residents are fully protected.

"As with any project, safety was paramount and we felt that the SolarEdge SafeDC™ and Firefighter Gateway gave ultimate peace of mind. The remote monitoring capability with pinpointed alerts allows less site visits and less module maintenance, saving Operations and Management costs. Finally, a solar system is a long-term investment, so we wanted to provide peace-of-mind to the zoo by working with an established supplier such as SolarEdge, that is able to back up its warranties over the lifetime of the system," concluded Spencer-Newman.