Harnessing solar: The power of dual-glass panels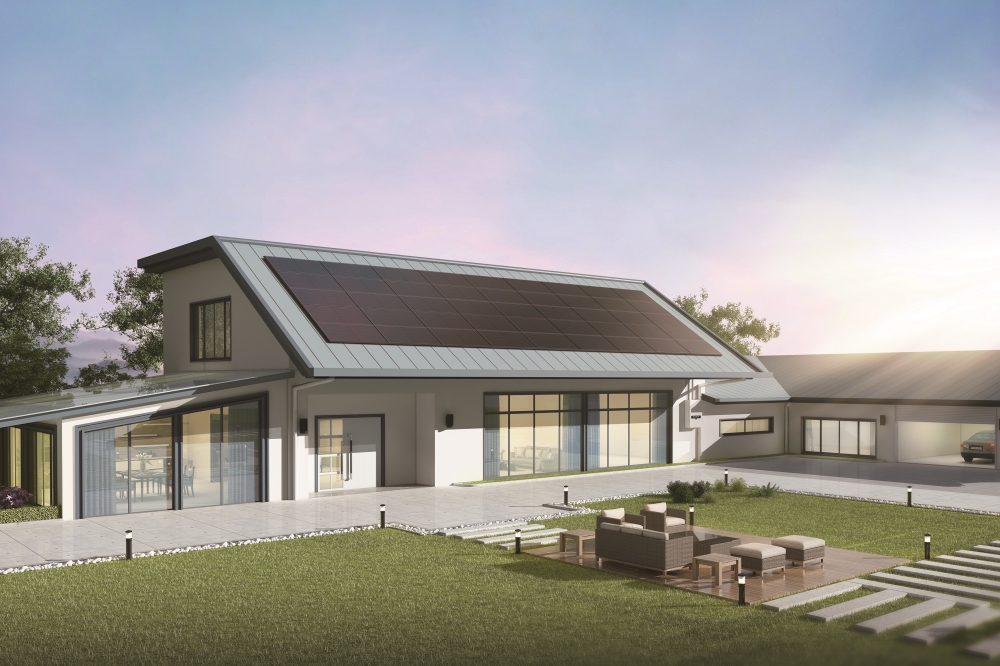 The use of dual-glass PV modules has long been standard in large scale solar projects and ground-mounted systems. Recently, these panels are now also becoming a popular choice for both residential and commercial rooftops. This is thanks to recent developments in solar technology that have enabled providers to create lightweight, durable dual-glass modules that are long-lasting and improve energy efficiency.
Longer service life, more energy yielded
In order for solar panels to be durable and robust, they must be built with high-quality materials that are less prone to degradation, can better adapt to different environmental conditions and generate maximum solar energy while being easy to install.
Dual-glass modules are extremely reliable and durable and have a longer service life than conventional solar modules with plastic backsheets. This is in part due to the additional glass layer which protects the sensitive components from environmental factors such as moisture, dust and chemical substances. Centrally embedding the modules also reduces mechanical stress on the cells.
Dual-glass modules have an aluminium frame that protects and supports the glass, which itself is only a few millimetres thick to keep weight to a minimum.
Resilience is a key benefit of dual-glass structures. This means that the panels are less susceptible to degradation, increasing the energy yield over a module's service life while requiring less maintenance to be carried out over the years.

This longevity is also reflected in the guarantees offered by manufacturers. For example, guarantee periods of 30 years are often offered, versus shorter guarantees for modules with a plastic backsheet.

Low weight – At eye level with backsheet modules
Dual-glass modules are highly adaptable and can be used to maximise space and energy generation in a number of environments. This is especially important on any kind of rooftop where space is at a premium, output needs to be optimised, and panels must weigh as little as possible. The lowered weight is one of the key reasons why dual-glass modules have now become so easy to install and can be handled well on rooftops. This is imperative for installers working on flat and pitched roofs, who need to navigate height and angles to safely and properly install panels. The most innovative rooftop modules are just 21kg – in other words, as light as backsheet modules. This is thanks to recent technological advancements in glass production, which has enabled manufacturers to produce glass layers so thin that the overall weight is reduced considerably. Now, there is virtually no difference in weight between glass and backsheet modules.

A variety of applications
Dual-glass modules are also designed to be compatible with other PV components, such as standard mounting systems and inverters, making them a good choice for installers.
Additionally, there are now some transparent dual-glass options on the market. This approach is relatively new, and furthers the quality and appearance for rooftop mounting as the transparent backing blends in against the roof.
Thanks to their bifacial cells, the back of transparent dual-glass modules can absorb reflected solar radiation from its surroundings, which contributes to their high energy generating capabilities. This is a significant bonus, particularly for flat roof systems with elevation and open module backs when combined with a reflective roof skin, as this can generate a great deal of extra energy and makes dual-glass a cost-effective system to install.
Sustainability is key
Solar panels are no longer just about harnessing energy in a sustainable way. Now, the environmental impact of the entire lifecycle of the module must be considered and is often pivotal in the decision-making process when choosing which modules to buy and install.
Manufacturers are setting an example during the production process in innovative ways, for example by using renewable energy to produce modules. Nowadays, a solar module takes just about two years to recoup the energy used to manufacture it. Dual-glass modules have a life cycle of more than 25 or even 30 years, ensuring that the invested energy is paid back in spades.
Compared to modules with a backsheet, dual-glass modules have a lower overall carbon footprint, as the glass backing means the panels contain fewer plastics. At the end of their life cycle, the modules can also be easily separated in the recycling process compared to modules with plastic film, as the hard glass can be detached from the embedding material and reused.
Investing in solar panels is the future of energy supply, so it's essential that modules are as efficient as possible while requiring minimal maintenance over the years. Dual-glass modules will play a significant role in the evolution of PV technology, particularly for residential projects, ensuring resilience, reliability and maximum energy yields for decades to come.