Fluke's new all-in-one test solution simplifies verification, performance and safety testing of photovoltaic systems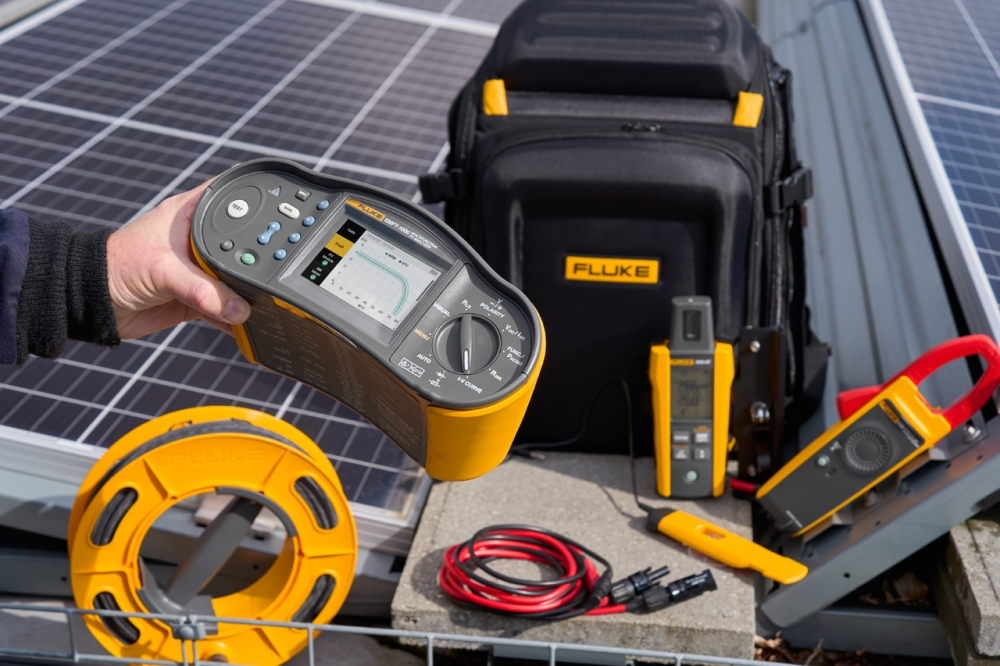 The easy-to-use Fluke SMFT-1000 Multifunction PV Tester and Performance Analyser for photovoltaic systems fulfils safety testing in accordance with IEC/EN 62446-1 and offers performance analysis as well as an I-V curve tracer to streamline workflows.
Fluke, in the manufacture of compact, professional electronic test and measurement tools and software, has today launched the new SMFT-1000 Multifunction Photovoltaic (PV) Tester, Performance Analyser and I-V Curve Tracer. The all-in-one SMFT-1000 is an ideal solution for solar professionals seeking to boost efficiency when completing safety and performance testing of PV systems operating up to 1000 V DC.
Solar technicians can now carry out the full range of measurement functions on the DC part of PV installations across residential, commercial, industrial and utility-scale farms with a single device that combines accuracy with safety and reliability. As the device streamlines and simplifies solar workflows, the new handheld tester could reduce field time operation by 20% and documentation time by around 50%.
The I-V curve is one of the most common methods of determining how solar modules or solar strings operate in different working areas. The versatile SMFT-1000 enables I-V curve data to be compared instantly to measured data while in the field, displaying pass/fail visuals in real-time on the device's high-definition colour screen for easy detection without the need for a laptop or tablet. The tester can also be used for measurements of open voltage, short circuit or operating current, insulation tests, polarity checks, diode and earth bond testing. In addition, AC/DC power measurements to improve efficiency can be performed on the inverter.
A truly multifunction tester for PV systems
Hans-Dieter Schuessele, Application & Technology Expert at Fluke says: "The solar industry is booming, and new PV installations are being installed around the world to keep pace with society's insatiable demand for renewable forms of electricity. Solar professionals tasked with installing, commissioning, and maintaining this new infrastructure require fast, accurate and safe tools to ensure solar systems to operate at high efficiency with minimal or no downtime.
"The market has been crying out for a versatile and accurate multifunction tester. The SMFT-1000 Multifunction PV tester, Performance Analyser and I-V Curve Tracer from Fluke is a rigorously tested and highly capable all-in-one tool with advance safety and functionality features. Armed with a suite of unique auto-diagnostic functions, solar professionals can now safely and accurately test the quality of PV systems while streamlining workflows faster than ever before."
IEC/EN 62446-1 compliant testing
Using Fluke's patented Keep the Leads system, the solar professionals need only connect to a PV installation once to perform all tests, saving time with easy-to-use Auto-Test sequences displayed in real-time. Functions include IEC/EN 62446-1 testing for Category 1 and 2 as well as insulation testing for Method A and B. Clearly marked controls show earth bond resistance, polarity, voltage and current, power AC/DC and function, insulation resistance, I-V curve and diode tests. Once all measurements have been saved in the field, data can be saved and downloaded to a computer using Fluke's TruTest Data Management and Reporting Software, simplifying the process of data management, reporting and analysis.
Easy integration for advanced test
To deliver optimal results, the SMFT-1000 Multifunction PV tester can be enhanced with Fluke's i100 AC/DC current clamp and the IRR2-BT irradiance meter with high-contrast LCD screen. The current clamp enables technicians to carry out inverter power analysis while the irradiance meter takes irradiance and temperature measurements. The irradiance meter communicates with the SMFT-1000 wirelessly via Bluetooth to achieve an accurate I-V rating. If the wireless connection is interrupted for any reason, the IRR2-BT will continue recording data for up to 17 hours which can be matched against tests taken with the SMFT-1000.
The new SMFT-1000 Multifunction PV Tester, Performance Analyser and I-V Curve Tracer is now available from Fluke's network of global and regional distributors. For more information, visit https://www.fluke.com/en-gb/product/electrical-testing/best-solar-energy-industry-tools/smft-1000-pv-tester.